At Eastfield, Personal, Social and Health Education (PSHE) enables our children to become healthy, independent and responsible members of society. Our PSHE curriculum, is a reactive approach, which aims to help our children to understand how they are developing personally and socially, and tackles many of the moral, social and cultural issues that are a part of growing up. We provide our children with a comprehensive understanding of the diverse world around them and support them to develop their sense of self- worth by playing an active role in contributing to the school and wider community. Furthermore, the elements of the National Curriculum: Drugs and alcohol, relationships and sex education, financial education and the importance of physical activity and diet for a healthy lifestyle as well as current and relevant issues such as body image and social media are carefully woven into our PSHE curriculum. Each classroom has an established safe atmosphere where children can explore sensitive issues and share their feelings. Through the use of our carefully chosen texts that underpin the wider curriculum, our pupils will develop the skills to empathise with others and develop their own identity, values and beliefs.
We teach our children about making the right choices in order to live happy and healthy lives. We also work hard to ensure our pupils develop strong skills in speaking and listening, cooperation, empathy, compassion, resilience and mutual respect. Children learn to be aware of their feelings and emotions and are taught skills and strategies to help regulate feelings in order to support their mental health and wellbeing.
Jigsaw
PSHE lessons are delivered through Jigsaw, which brings together PSHE education, emotional literacy, social skills and spiritual development in an inclusive scheme of learning. Teaching strategies are varied and mindful of the needs of the children. Jigsaw is designed as a whole school approach, with all year groups working on the same theme (puzzle piece) at the same time.
The Six Puzzles
There are six puzzles in Jigsaw that are designed to progress in a sequence throughout the year:
Autumn 1: Being Me in My World
Autumn 2: Celebrating Differences (including anti-bullying)
Spring 1: Dreams and Goals
Spring 2: Healthy Me
Summer 1: Relationships
Summer 2: Changing me (including Sex Education)
The puzzles pieces have various learning outcomes which address the needs of children today and support children's emotional literacy and social skills.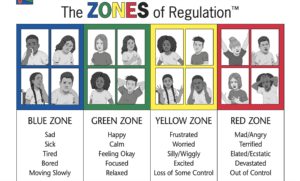 As well as Jigsaw, we use the Zones of Regulation programme to support pupils social and emotional wellbeing. The Zones of Regulation is a complete social-emotional learning curriculum, created to teach children self-regulation and emotional control. The programme uses  4 colours (green. blue, yellow red) to identify different emotions. In addition, children learn how to use strategies or tools to stay in a zone or move from one to another. Pupils explore calming techniques, cognitive strategies, and sensory supports so they will have a toolbox of methods to use to move between zones.
https://www.zonesofregulation.com/index.html
Commando Joes is an education package that focuses on building children's characteristics, life skills and mindset through their RESPECT programme. RESPECT stands for Resilience, Empathy, Self-awareness, Positivity, Excellence, Communication and Teamwork.  Children take part in hands on practical lessons that aim to build on these skills. The 'Missions' from Commando Joe are active, exciting and engaging and also help to build on resilience, cooperation and problem-solving skills.
PSHE Leader:
Miss N Byrne